Can affiliate marketing be a trusted source of passive income?
Drop your email address to receive a FREE guide to start your affiliate marketing business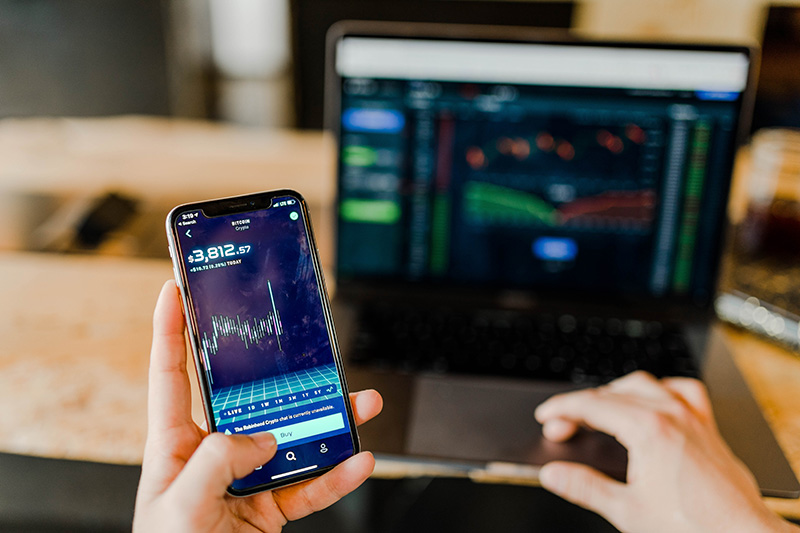 Short answer: "Yes, You Can Build Your Future With Affiliate Marketing."
If you are reading this, you might already know the potential of affiliate marketing as an income source. But, following the right strategies can be tricky.
Let me tell you this: You landed on my website, so you are on the right track. I'll be sharing with you the top affiliate marketing strategies for free here.
This website is going to be your all-in-one resource whether you are a beginner or a seasoned affiliate marketer.
See, my goal is to let you build an online income stream that you can easily scale. Stay with me till the end to know how much value you'll be getting on my blog.
Let's start with a simple explanation:
What is Affiliate Marketing?
The beauty of affiliate marketing is that you don't have to own a product to make money from it. Affiliate marketing is basically making commissions by selling others' products.
So, as an affiliate marketer, you:
Find an affiliate program
Promote their product(s)
Generate commissions on conversions (or sales)
What does this mean for a business?
Well, it's free marketing for a business.
What does this mean for an affiliate marketer like us?
Passive income! This means you make money on autopilot. Win-win, right?
But, how do you know if affiliate marketing is for you or not?
Let's take a look.
Who is Affiliate Marketing for?
Affiliate marketing is for you if:
You want to generate online income without having to invest a lot
You are passionate about online entrepreneurship
You want to be your own boss
You want to be location- and time-independent
Affiliate marketing is not for you if:
You are happy with your salary
You give up too easily
You can't afford to work
What Skills Can Help you in Affiliate Marketing?
Fortunately, the skills you need as an affiliate marketer aren't hard to learn or even perfect. Here is a list of skills you may want to polish to be successful in your affiliate marketing business:
Problem-solving: Along the way, you'd encounter small-scale problems that are easy to overcome with the right strategies. This is where you'd find great value in the content that I'd be sharing with you on my blog. You might need some problem-solving skills to get the success needle moving.
Decision-making: Almost every business requires this skill. While it's tempting to make decisions based on gut feeling, I'll help you make the right decisions for your affiliate business.
Marketing: Marketing skills are a must in affiliate marketing as you need to attract and convert the right audience. You'd be needing effective marketing strategies that can bring in relevant people.
Writing: You don't need to be a "Writer" to be a successful affiliate marketer. All you'd need here is effective communication skills. This is a learnable skill, which is where my blog will come in handy for you.
The good news is, even if you think you don't have even one of the above-mentioned skills, affiliate marketing is for you. Yes, it's that easy! But, again, you do need the right mentor that can guide you in the right direction.
Let me tell you the three things that you need to be a successful affiliate marketer:
Fire in the belly
Basic communication skills
The right mentorship or strategies
Affiliate Marketing as a Passive Income Source
One of the most attractive things about affiliate marketing is that you don't need to keep working to get a paycheck in your account.
Let me tell you how the most effective and popular affiliate business model works:
You decide on a niche (topic) and find relevant keywords (Google searches related to your affiliate product)
You produce and publish helpful and high-quality content around those keywords
Once your content gets search-engine real estate (Google ranking), you generate automated sales for your affiliate business.
That said, there is a lot that goes into sustaining a profitable affiliate business. We will go into the depth below.
Affiliate Marketing Platforms
There are a lot of affiliate programs that you can join right now. Put "Affiliate Networks" into Google search and you'll find 100s of platforms to work with.
But, understanding each one of them is imperative to create a profitable relationship with them.
Let's discuss a few most popular and trustworthy affiliate programs.
Amazon Associates
"Amazon Associates" is probably the most popular one. See, Amazon is a worldwide phenomenon that millions of consumers trust.
This trust helps affiliates to generate more affiliate sales through their links. All you got to do is bring relevant traffic to your content. I'll be showing you how!
There are plenty of product categories on Amazon that you can create an affiliate blog on. You'd also learn how to create an Amazon Affiliate blog that generates real money on my blog.
The beauty of Amazon Associates is that you only need to sign up once. Once you get approved, you can make money by selling anything that Amazon sells.
CJ Affiliate
Previously popular as Commission Junction, CJ is one of the oldest and largest affiliate networks out there.
CJ hosts countless businesses that you can work with and generate affiliate income. Affiliate marketers earn upwards of $1.8 billion from CJ every year.
But, unlike Amazon Associates, you do need approval from every merchant on CJ to work with them. That said, it can prove to be a goldmine for affiliate marketers.
ShareASale
ShareASale is another reputable affiliate network that connects brands with affiliate marketers. As an affiliate, you can choose around 4000 programs on the ShareASale affiliate network.
I could go on and on about hundreds of affiliate networks that you can join and start making affiliate commissions instantly.
I'll be talking about most of them in detail on my blog. You'll know how to apply, get approved, and make a passive income with these amazing platforms.
Affiliate Commission Types
Generating a sale through your affiliate links isn't the only way you can make money as an affiliate. There are a couple of other commission models that businesses use to generate conversions.
Pay Per Lead
Pay per lead affiliate model pays the marketer whenever they generate a lead through their affiliate link. An example of a lead is getting a prospect to give their email address or sign up for a trial account.
The beauty of pay-per-lead affiliate programs is that you don't have to generate a sale to get the commissions rolling in.
There are plenty of PPL programs that I'll dive into on my blog.
Cost Per Action
This one is a relatively broad affiliate model. CPA affiliate marketing model pays affiliates on every "Action" they generate through their affiliate links.
Now, it could be a lead or a sale. Or, it could be a video view or even a click on a link. So, it's a good idea to check the exact commission model before signing up for a CPA affiliate program.
That said, probably the most popular and profitable affiliate model is based on "Sales". A prominent example of that is Amazon Associates.
Social Media and Affiliate Marketing
While a blog allows you to build trust and generate affiliate sales with high-quality content, it's not a strict requirement.
You can use social media to get your affiliate offers in front of relevant people too. But, you need to be cautious of a few things.
For one, you don't want to spam people without providing them great value first. Second, not all social media platforms allow affiliate links.
I'd be focusing on how you can use social media platforms and your blog in tandem to achieve your affiliate marketing goals effectively.
You can use social media platforms like Pinterest to attract plenty of high-quality traffic to your blog. Plus, forums like Quora and Reddit can help a lot as well.
Finding a Perfect Affiliate Marketing Niche
It probably looks pretty easy to pick up a topic that you love and establish an income source on it, but the reality is different.
See, since affiliate marketing began in 1989, plenty of bloggers have jumped on the bandwagon and established their own wealth systems.
For a beginner affiliate marketer these days, it's quite tricky to pick up a niche that guarantees success. But, you don't need to worry!
With the tactics and secrets I'll be sharing here, there is virtually no chance of going off-track. You will be able to find a perfect affiliate marketing niche and establish a solid income source with it.
Starting Your Own Affiliate Blog
Once you select your affiliate marketing niche, you'd be creating your own blog/website. And, believe me, it's not as tricky as it may sound.
Even if you have zero knowledge or skill, you'll be able to set up a perfect affiliate marketing blog within a few minutes!
Fortunately, content management systems (CMS) like WordPress have made things quite simple. Anyone with a sound mind and a few bucks can create their own website.
I'll go into detail about how you can not only create an affiliate blog but make it a big success with the right strategies.
Expanding Your Affiliate Business
Your affiliate marketing business doesn't need to be limited to one blog. Once you have a running blog, you'd have mastered all the techniques to create a new one.
And, because you know what works and what doesn't, it'd take less time and effort to replicate what you did before, or even do it better.
This lets you create multiple streams of income even from this single business model.
Flipping Your Affiliate Blogs
Affiliate blog flipping is another way to ramp up your income. While it's a one-time profit, done right, it can make you rich, overnight. But, you'll be getting the reward for your smart work.
Websites like Flippa provide an excellent platform where established and to-be bloggers sell and purchase blogs. And, a single sale can make you as much as 30X your current blog income.
Affiliate Marketing Income Potential
The income potential of affiliate marketing is enormous. A few things can have a great impact on your affiliate income though:
Experienced affiliate marketers make more than beginners, generally.
The decisions you make. A wrong decision can limit your success in affiliate marketing
The right strategies or mentorship
If you can avoid making mistakes that most experienced bloggers once made, you can not only excel faster but you can make more than them.
This is where following the people that know their craft is imperative. Sign up for my newsletter and get the right blogging strategies in your inbox to avoid falling into any pitfalls along the way.
The Future of Affiliate Marketing
As long as businesses need new customers cost-effectively, affiliate marketing would be one of the most popular online revenue models for entrepreneurs.
An estimate shows that 80% of businesses have an affiliate program. And, it accounts for more than 15% of all online media revenue.
So, the future of affiliate marketing seems pretty bright. It seems to be an excellent source of passive income for many online entrepreneurs for many years to come.
Affiliate Marketing Learning Curve
Fortunately, the learning curve of affiliate marketing isn't that steep. Anyone with a passion for online entrepreneurship can get their affiliate business up and running.
However, there is one condition to that: You do need to make your own way in this competitive landscape.
And, that's nearly impossible if you don't follow a tried-and-tested system. Something that is known to bring results.
You can start researching on your own and take it as a challenge, but there would be a high chance of failure as you won't be following one strategy.
Want to prevent hurdles from slowing you down in your affiliate marketing journey? Make sure to sign up for my FREE newsletter. I'd be sharing everything related to affiliate marketing, helping you create a sustainable income source.
Drop your email address to receive actionable affiliate marketing resources in your inbox:
Want to prevent hurdles from slowing you down in your affiliate marketing journey?
Make sure to sign up for my FREE newsletter. I'd be sharing everything related to affiliate marketing, helping you create a sustainable income source.